How to Get Paid Without Incurring Currency Exchange Charges?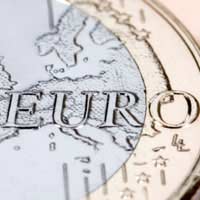 Q.
What is the most cost effective way to receive Euro payments for services in the EU in order to avoid the hefty currency exchange rate or charges?
(B.H, 18 March 2009)

A.
There are several online payment methods these days that avoid hefty currency exchange rate charges.
If you were to receive a cheque from a European business partner in Euros, it would cost several pounds to get it cashed into your bank, and it would take several weeks. Obviously that method is best avoided.
There are, however, several online payment options that will put money into your account instantly, and with reasonable charges.
PayPal has long been associated with the online auction website ebay, which allows people to buy and sell things from and to anywhere in the world. To support this, ebay uses PayPal as its preferred payment method. You simply have to link up a bank account or a credit card with your PayPal account and you can then accept payments in any currency and make payments in sterling to any currency. Charges on PayPal are 7.5 per cent when you receive money – and these apply, whatever currency your payment originates from. There are no charges to send money, and it is free to sign up.
Moneybookers is another option, allowing payments and money transfers to be made through the Internet. For transactions involving currency conversion Moneybookers adds 1.75% to the wholesale exchange rates; the charge serving as a protection against the volatility and risk associated with FX markets. Moneybookers exchange rates are updated on a regular basis throughout the day. Sending money is subject to a 1% fee. It is free to sign up. As of March 2009 Moneybookers is up for sale by its owners Investcorp for an estimated £365m.
WorldPay offers customers similar facilities. It has a diversity of payment methods giving customers the ability to manage their business in different currencies and languages. WorldPay claims it is the only way to accept such a universal range of payments through one account, one payment processing system, 24/7. However, it has a range of charges which make it more expensive that the other two options mentioned, including a sign-up fee.
Another useful site on this topic is xe.com, a currency conversion site. This can give you up to the minute exchange rates with an easy online form to show you how much money is worth in different currencies. It, too, offers services to transfer money.
You might also like...