Understanding Business Cashflow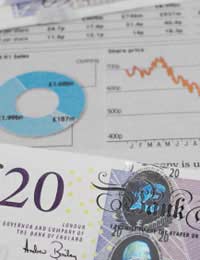 Cashflow is one of the concepts which those starting their own business for the first time often fail to grasp properly. The result can be catastrophic. Many young businesses expire despite the fact that they were fundamentally profitable, simply because their owners failed to understand and stay on top of cashflow problems.
If you came to business from conventional salaried employment, things will usually have been nice and simple for you. You would do your work throughout the month, then be paid for it at the end, perhaps with a delay of a few days or, at most, a week. Although your first month in a new job could sometimes be a bit awkward, in general you do not have to deal with significant upfront expenses.
In business, however, things are very different. Companies typically pay for the goods or services they purchase only after a significant delay. Invoice times of up to three months are not unknown. You may well have to wait a substantial period of time before being paid for work you have done. This can especially be a problem if your own business output requires significant and expensive inputs, for example if you need to pay for raw materials you then turn into a finished product.
Credit Control
Figures show that a typical small-to-medium enterprise (SME) in Britain is owed £30,000 at any one time! In effect, you are being asked to lend that money to the companies you sell to. Any institution which lends money, such as a bank or a credit card company, engages in some preliminary investigation of the borrower's creditworthiness to assess whether or not they are a good risk. If you sell primarily to other businesses, and deal in high-value transactions, you should do the same. You can ask new customers to complete a credit application, supplying references of other companies they have dealt with.
If you have serious doubts about a new client, you can consult a credit reference agency or check their records at Companies House.
Deterring Late Payment
By law, you are entitled to charge interest on debts owed by other businesses. A statutory interest rate, of the prevailing Bank of England base rate plus 8%, can be charged after 30 days. Alternatively, the terms and conditions can specify a different contractual base rate (higher or lower). Not all businesses do charge interest on late payments from other businesses, however. In fact, one study showed that 83% do not and that a remarkable £18 billion in potential interest on late business debts was being waived each year.
Why are businesses so reluctant to ask for what the law entitles them to? Very simply, they are afraid that doing so would damage relationships with their customers and mean that they would get less business from them in future. In practice, it is often large companies which keep their much smaller suppliers waiting a long time for payment. Small companies tend to fear the loss of custom and are intimidated into going along with the arrangement.You will need to decide for yourself whether to charge interest consistently, never, or in some cases only.
Factoring
One option for helping you cope with cashflow problems is called factoring. Factoring involves getting advances on your unpaid invoices from another company at a discount of their face value (usually around 80%) – one which specialises in this activity. The factoring firm will attempt to realise payment in full from your customer. If it does, it will deduct a fee before remitting the balance to you. When the customer does not pay, the factoring company may either absorb the loss on its own or require you to reimburse the advance, depending on the arrangement you have worked out.
Factoring does mean that you won't be able to realise the full value of the sale you made, because a percentage of the take goes to the factoring firm as a fee, but the arrangement may still prove beneficial on the whole if you are running into serious cash flow difficulties.
A similar strategy, one that involves a kind of do-it-yourself factoring, is to offer your customers a discount on their invoices for early payment.
Business Cashflow – Conclusion
Understanding the importance of cashflow is vital to making a success of your company. Even if your business is showing a healthy profit, it can still be brought down by inadequate cashflow.
You might also like...