Working for Someone Else from Home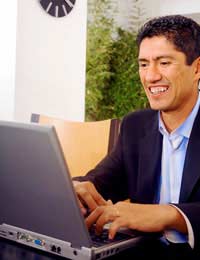 For a long time telecommuting, working from home instead of travelling to an office each day, was more popular with journalists than it was with real companies. As the internet revolution unfolded, it seemed to symbolise the extent of technological progress and, as a result, was the subject of a great deal of hype. Real companies, though, were initially reluctant to embrace it, perhaps doubtful that the productivity of remote workers could match that of employees supervised in an office. It now seems that reality is finally beginning to catch up with some of those early optimistic projections, however.
According to the Office of National Statistics, as of 2005 11% of Britain's working age population worked mainly from home. Since broadband availability has spread a little further since then, no doubt the current figures would be even higher.
So what are leading companies doing to embrace telecommuting and what advantages does it offer?One huge benefit of telecommuting is that no travel-to-work time is necessary. This, of course, is a great boon to the environment as traffic fumes are one of the main sources of greenhouse gas emissions, which generate global warming. Naturally, when travel chaos hits, as it so often does in winter, or when strikes put public transport out of action, telecommuters aren't affected. With some analysts warning that the world's oil supplies are running out, high fuel prices are probably in all of our futures, and the telecommuting option is only going to grow in appeal.
Employers have also found that staff loyalty grows significantly when flexible working arrangements are offered, staff retention goes up and absenteeism goes down. Work Wise UK is an organisation dedicated to promoting flexible working practices in Britain, including telecommuting. It has support from government sources, from the TUC, and, perhaps unsurprisingly, given how much money telecommunications companies stand to make if working remotely over the internet becomes the norm, British Telecom. WorkWise has started declaring a National Work From Home day each year and this initiative has succeeded in garnering some publicity for teleworking.
Asking Your Employer to Let You Work from Home
If you want to work from home, the simplest thing to do is ask your existing employer to let you. Under the Flexible Working regulations, many British employees now have the right to ask their employers for flexible working arrangements. The law applies to those who have a child under 6 years of age at home, a disabled child of any age or an adult who must be cared for. Flexible working is defined broadly and can include many different options, including part-time working, job sharing arrangements and working from home.
Your employer is obliged by law to consider your request and to hold a meeting to discuss it with you within 28 days of the request being made. You are allowed to have a companion (who must be a fellow employee) with you at the meeting with your employer. Following the meeting, your employer must give a formal response to your request. If the request is refused, it must be for one of a number of standard reasons which are specified under the law such as "detrimental impact on performance". On receipt of a refusal, you have 14 days in which to appeal the decision. Appeals are heard by an employment tribunal and employers can be fined or overruled if they have not complied with the law. Your employer is not by any means obliged to grant your request to work from home, but there's no harm in asking.
Conclusion
Telecommuting has long been very popular among employees but now employers are starting to catch on to its benefits too. Environmental concerns are increasingly important to individuals, government and businesses, so it's likely that teleworking arrangements will continue to spread, and more and more of us will have the option of working from home in future.
You might also like...