A Day in the Life of a Home Worker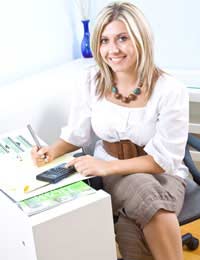 If you want to be a successful property developer, it's said you have to think about three things: location, location, location. Well if you want to be a successful home worker, there are three things to think about, too: discipline, discipline, discipline.
The tremendous advantages of working at home in terms of cutting out wasted commuting time disappear very quickly if motivating yourself to sit down and put in the hours becomes difficult. That's why structuring your day is so important. Pick a time to start and try not to deviate from it.
In the flush of excitement at not being in an office its easy to forget that the key part of homeworking is the 'working' bit! Clients and employers will soon notice any drop in productivity and one way to make sure you deliver is to structure your day into clearly defined work-periods.
Research lately has made much of the advantages of short breaks, although this can be taken to extremes. As a minimum it's worth considering the 'Builder's Day'. Over hundreds of years masons and carpenters have found themselves a very neat routine, and it's a good place to start. The following pre-supposes you are working at a desk or workstation. That's simply because most home-workers are. If your work at home falls into a different category – you are a farrier, lets say, or your work at home is mainly in wheelwrighting, it may not suit!
8am to 10am Start
You get going by eight, no excuses, no quibbles. The first hour is a great time to blitz your paperwork rattle through administrative tasks and catch up emails before the telephone starts ringing. Then the second hour is a good time to embark upon that project that seemed so daunting at five o'clock yesterday afternoon!
10am to 10.30am Break
Ten is a great time to grab a coffee or stretch your legs or go and open the post or just do something else for half an hour. You'll be amazed how much more you get done when you come back to your desk fresh. Of course the magic of homeworking is that you can do something really worth doing in this time – play with the kids, take the dog out, change the car battery. Instead of sitting in an air conditioned office thinking of all the things you need to get done at home – you get them done.
10 30am to 1pm
Depending on what are now called your 'bio-rhythms' this is perhaps the most popular slot to really to get stuck into the days work. It's a good long slot and you can make any calls you need to make because everybody else is at their desk.
1pm to 2pm Lunch/Exercise
Research by the Health and Safety Executive has shown in no uncertain terms that short periods of exercise will stimulate productivity. We weren't made to hunch ourselves over desks, and even a brisk walk will return you to your desk feeling 100% more motivated.
2pm to 4.45pm
The graveyard slot but, after a healthy break at lunchtime it can be a super chance to knuckle down, tidy up the work you've embarked on that morning, attack the research you need to get done for tomorrow and generally leave your desk finished and tidy. A recent study of sleep patterns found that 'power kip's lasting 20 minutes or so between 2pm and 5pm were of great value but watch out! It can become very easy, in the sleepy hours after lunch, to sign off for the day.
4.45pm to 5pm
Set this 15 minutes aside to plan tomorrow. Look back at what you've achieved, prioritise what you need to do the next day and WRITE IT DOWN!
You might also like...