Freelance Careers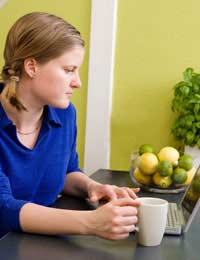 In the old days almost all of us worked in a 9 to 5 job, and usually stayed with the same employers for long periods, in many cases for our entire working lives. Now things have changed. Jobs for life are rare; employees switch employers and even careers much more readily; and non-standard working arrangements such as self-employment, part-time work or freelancing are much more common. According to the Office of National Statistics, 13% of workers in the UK are self-employed, 7% work on a freelance basis and 24% work part-time.
When considering options for freelance work, you'll need to think about what having a career at home means to you. Does it mean you wanted to be based at home but are willing to work for long periods on client sites when needed? Does it mean you want to venture out only occasionally? Or do you really want to be in your house all the time, doing exclusively remote work? The answer to these questions limits the kind of options you will have as a freelancer. For example, freelance careers in computer programming are very common; but not many computer programmers work entirely from home; most freelance software engineers still work in offices on client sites, doing things much as they would in a standard office job. Freelance journalism and photography often involve going to specific places at specific times to meet people and cover events.
Types of Freelance Work
Freelancing has traditionally been associated with creative work and with those at the very top of their profession. Expert doctors with a rare speciality often work as freelance consultants for example. Careers in photography, art and journalism have often been associated with freelancing. In recent years, however, the option of going freelance has become available to much broader classes and types of worker. Even secretaries, for example, one class of worker who you would think might really need to be there in person, now often work on a freelance basis remotely, answering telephones in their homes just as if they were in an office and callers usually don't notice the difference.
No doubt this partly reflects the rise of our information society in which more and more of us work in managing and processing information in some way and fewer and fewer of us in actually making or handling tangible things. In addition, management fads have encouraged businesses to focus on core competencies and bring in outsiders to help with other tasks. The ubiquity of the internet has also helped bring about the growing popularity of freelance work. Online communication makes it much easier for employers with one-off, irregular or otherwise niche tasks to perform to connect up with those who can do them.
But realistically, freelancing isn't an option available to everyone – yet. So what careers is it practical to pursue on a freelance basis? Creative work still accounts for a disproportionate number of freelancers. Besides the old mainstays of journalism, photography and art, we now have more modern crafts such as computer programming, search engine optimisation and web design. Proofreading and editing jobs are also often done from home on a freelance basis. If you have high-level specialised knowledge in a specific area, you may be able to work as a freelance consultant.
If you're in a "normal" job and thinking of going freelance, it's probably best to approach it tentatively rather than plunging straight in. Moonlight for a while as a freelancer while holding on to your current job. This should give you a feel for how easy or difficult it will be to find work and allow you to gauge the reaction of clients to your work. After a while, if it feels good, you can give up the 9 to 5 and commit to it full-time.
Conclusion
Changes in work patterns and lifestyle choices have resulted in more and more us choosing to earn our living in freelance occupations. As technology continues to evolve, enhancing communication globally, it is likely that this trend will only continue to intensify.
You might also like...
My wife would dearly love to move overseas to a better climate, either Portugal or to a tiny island called Montserrat in the West Indies where she has family at least part of the year. To do this, I'd have to give up my job in the UK in Supply Chain/Logistics. The job market isn't fantastic in either of these places and I don't speak Portuguese. Got me thinking, maybe I should try and think of a career where the country I'm in isn't a restriction, effectively working remotely at my own pace, while never necessarily having to meet clients etc. Is anyone in a similar situation who does this who could offer me some advice/ideas?
Crossgates Dad
- 8-Jun-11 @ 9:00 PM