Constructing a Business Plan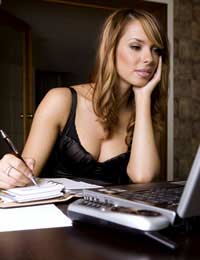 You may think that a Business Plan is not necessary – that you have it all in your head and you know what you want to do, so there's no need to put it down on paper. That may well be true. But a business plan is really a communication tool. You use it to let others know you are serious about this new venture : that you have set conscious goals for yourself and will strive to meet them. Why should you care what others think? Well, usually because you want them to help you in some way, like by giving you money. If you're in the fortunate position of not needing help from anyone in order to get your new business off the ground, perhaps you can dispense with the need to create a business plan. Even then, however, it's still an option worth considering. Having to put it all down on paper has a way of bringing out gaps in your thinking, and uncertainties that haven't been resolved, helping you focus your thinking on whether your business idea is something that's really worth pursuing.
Business Plan - Presentation
Make an effort with the presentation of your business plan. Part of your goal is to demonstrate that you are serious and professional. There are a number of business plan templates which you can download easily from the web. These will offer you guidance on the best structure for the document and should give it an attractive appearance with a minimum effort on your part. Many high street banks also offer guides on how to construct business plans (and other associated documents such as marketing plans) and sometimes also software which will help you do that.
If you decide to create your own document from scratch, invest some time and effort in making it look good. Use clearly marked sections and headings; employ a variety of font sizes and styles. If you cannot write well, find a friend who can. Alternatively, hire a freelance writer. Many of them work very cheaply and a simple advert on Craigslist can produce many replies.
What Your Business Plan Should Contain
The core of any business plan is the description of your business and the services it will provide. You need to demonstrate that there is a market for whatever you intend to offer. Include details of any market research, either your own or third-party, which can help you demonstrate this.
Discuss the demographics of your target market and any shifts in market trends. Explain your marketing strategy for the business.
Do some risk analysis. Being candid about the risks to your business will lead potential investors to believe that you are being realistic and have considered every outcome.If your business plan will be presented to potential lenders or investors, you should include a personal financial statement, itemising your own wealth and assets. You should also state clearly what it is you need finance for. A detailed list is far preferable to something vague like "marketing expenses". Mention any other sources of finance you have, such as grants or your own personal contributions.
If your business is a start-up, you should also include descriptions of your own background and competencies. If you have been involved in similar businesses in the past, particularly at a managerial level, prospective lenders are naturally more inclined to look favourably on your proposal. Of course, if others with relevant experience are involved in the business with you, you should include details of their background too.
Your business plan should also contain sales and cashflow projections for your business. Lenders want to know when they are going to be paid back, of course. Don't be tempted to exaggerate here. Wildly optimistic projections will put lenders off.
Discuss the competition in your business plan. What differentiates you from them? If applicable, discuss compliance issues such as your adherence to relevant legislation. This shows that you are aware of the regulatory framework in which your business will operate. Include a section on your long-term goals. Where do you see the business in five years' time? Do you intend to expand it or perhaps sell it on?
Conclusion
Writing a business plan is a great way of bringing the ideas you have in your head into contact with reality. A thoroughly researched and professionally presented business plan is the best means of convincing yourself and others that your entrepreneurial ideas are well grounded and that the business will ultimately succeed.
You might also like...