Health and Safety in the Home Office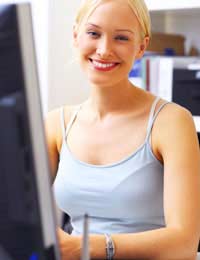 There are strict laws governing health and safety in the workplace and once you start working from home, whether you're self-employed or are working as a remote employee of a company, those laws still apply.
The main legislation governing health and safety in the workplace is the 1974 Health and Safety at work act, the Management of Health and Safety Regulations of 1992, the Health and Safety (Workplace) Regulations 1992 and the Health and Safety (Display Screen Equipment) Regulations.
Under it, companies are required to carry out a risk assessment of possible hazards in the workplace, both for those who work there and those who come into contact with it. So if you find yourself moving from an office-based role to a tele-working position with the same company, your boss may want to come and inspect your home first to be sure of its suitability! Some large British companies which have been pioneers in the teleworking field do in fact include home inspections as part of their initiation procedures for remote employees. In some cases, if a home inspection is not practical, perhaps because of distance from the corporate premises, the employee may be asked to carry the risk assessment instead. If you're asked to perform a risk assessment on behalf of an employer, you should receive some training first.
Typically, a risk assessment simply lists the main possible dangers that arise in the workplace, grades the severity of the risk, and describes what steps can be taken to minimise it or eliminate it altogether. Risks commonly encountered in a home-working environment include those related to electrical cabling, ventilation, and the physical comfort of a computer station.
Avoiding RSI While Using Computers
If you're spending a great deal of time at your computer, as many of us do, it's really worth investing a little in making sure that it constitutes a comfortable working environment. Buy a good quality monitor with a large and clear display. If you're going to be reading onscreen a lot, make sure that your monitor displays text very clearly. Get a good quality keyboard and a mouse that feels right for your fingers. Repetitive Strain Injury (RSI) is a serious problem that afflicts many who work with computers for long periods. The ergonomic qualities of mice and keyboards can vary dramatically. There's no use in saving a few pounds on a cheap mouse just to run a greater risk of injuries over the longer term because it pains your finger slightly every time you click on it.
Looking at a screen for long periods can impose a subtle strain on the eyes. To help avoid it, while you're working, you should look away from the screen every so often to let your eyes focus on something else. All employees who work extensively with computer screens have the right to request an eye test from their employers.
The position of your monitor, desk and chair are key to ensuring your comfort when you're working at a computer for long periods. Ideally, all three should be adjustable in height so you that you can find exactly the right configuration to create a comfortable working posture. Text at the top of the screen should appear at eye level or just below it. Desk and chair height should be such that the keyboard rests at around elbow level when you are seated.
Many home-based self-employed people who also occasionally visit client premises are tempted to use laptops because of their great flexibility. Laptops are great, but they were not designed for prolonged, intensive use. Their keyboards and screens are often small and not easily adjustable. If you do plan on using a laptop as your main computer, therefore, think about hooking it up to an external keyboard and monitor for optimum comfort.
Conclusion
Health and Safety is one of those issues that it's all too easy to neglect when you start up a new business. There is legislation that must be complied with, but, beyond the legal aspects, taking time out to ensure that your work environment is comfortable and safe will pay dividends in your personal well-being over the longer term.
You might also like...