Questionnaire: Do You Know the Home Working Regulations?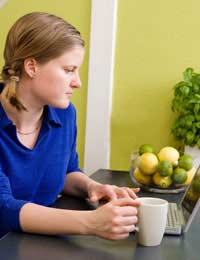 Take our questionnaire on home working regulations to find out how much you know about how such rules affect home workers. How important is health and safety in your home office; is a risk assessment overkill; and what can trading standards have to do with home workers? Find out below.
1. Do you believe that you are affected by health and safety regulations when working at home?
a) It's all about common sense, not rules.
b) Yes, even if you are self-employed and working from home, health and safety regulations affect you.
c) Health and safety rules do not apply to home workers.
2. What is the main point of health and safety law for home workers?
a) The main point is to give the bureaucrats some extra 'tick-boxes'.
b) In general terms, you have to protect your own safety; visitors to your home need to apply their own commons sense.
c) It requires you to protect others in your home, including visitors and others in your household.
3. Should you carry out a risk assessment on your home if you are working there?
a) Yes, you need to identify hazards, decide what risks they might cause, and record my findings; the process should be carried out regularly.
b) This is not necessary for home workers.
c) Yes, you do need to do this. It's a one-off task for a professional risk-assessor.
4. If you decide to review your environment, what aspects will you look at?
a) Just the basics of electricity and gas, as you would do if simply living at home.
b) Heating, lighting, equipment, protective clothing, power supply, seating posture, taking of breaks, first aid kit.
c) There is no need for a review for home workers.
5. In what circumstances might you need to inform the Environmental Health Services of your work at home?
a) All businesses working from home need to be inspected by the Environmental Health Service.
b) When you are setting up and office or a shop, or when running a catering business from home.
c) Only when you are going to actually sell food from your own home.
6. Why would you need to get planning permission for your home business?
a) If the setting up of the business changes the use of the building, or if more than half of the building is used for the business.
b) Planning permission is only required if you're extending the property to make room for the business.
c) Only if the neighbours report the fact that you've set up a home business which is causing a nuisance (e.g. noise).
7. Do you need a licence to run a food business from home?
a) A licence is required for sales of consumables, but as long as you get one within two years of opening, that is fine.b) No, a licence is only required if you plan to sell home-made alcohol (e.g. wine or beer) from your home.c) Yes, you must register with your local environmental health department at least 28 days before you open for business.
8. As a home worker, do you need to worry about Trading Standards?
a) No, Trading Standards do not apply to home workers, or any business with less than five employees.
b) Yes, if you are selling goods, and your local Trading Standards Office can help with free advice.
c) This is optional, and best avoided as they are fussy and charge for their services.
Points are given like this:
1. a) 2 b) 3 c) 1
2. a) 1 b) 2 c) 3
3. a) 3 b) 1 c) 2
4. a) 2 b) 3 c) 1
5. a) 1 b) 3 c) 2
6. a) 3 b) 1 c) 2
7. a) 2 b) 1 c) 3
8. a) 1 b) 3 c) 2
Add up the scores from your answers.
How did you score?
21-24:
Good, you are obviously familiar with the rules and regulations that affect home workers, who are not immune from business law, and must apply them in nearly all circumstances.
16-20: Although you have some understanding of rules and regulations affecting home workers, there are some gaps in your knowledge. It is definitely advisable for you to do more research on the topic.
15 or less: If you really want to run a business from home, then you need to get to grips with the rules and regulations that will affect. Just because you don't own premises on a business park does not mean that you don't have to heed laws on safety, health, licensing and trading standards, and the rest. Keep reading CareerAtHome articles to improve your knowledge.
You might also like...