Questionnaire: Health & Safety Rules for the Home Worker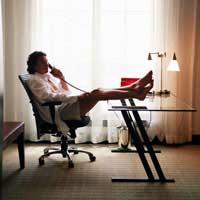 If you are self-employed and working from home (even if you are on your own), you are still subject to health and safety regulations. Although it seems obvious that you should work in a safe environment, don't simply assuming that you conform to all the rules. Take our seven point health & safety questionnaire for home workers to see how much you know. Choose one answer in each case then check your score and read our advice below.
1. If you work at home Health & Safety rules:
a.
Do not apply.
b.
Are applicable in law.
c.
Are a simple matter of common sense.
2. With regard to business visitors to your home, should you:
a.
Take them to another venue (e.g. local pub) to meet?
b.
Ask them to read your health & safety rules, and sign them?
c.
Take the proper precautions with regard to health & safety law?
3. If you run your business from your home:
a.
You should carry on a risk assessment on your home, when you set up the business.
b.
You should carry out regular risk assessments at your home.
c.
Every visitor will know that it is their risk, not yours.
4. Carrying out a health & safety risk assessment at your home will involve:
a.
Buying a checklist from an Internet supplier.
b.
Identifying hazards and risks, and who may be affected, and recording them.
c.
Calling an expert.
5. The following aspects should be checked:
a.
All power supplies, connections, equipment, protective equipment and clothing concerned with the business.
b.
Electricity and gas supplies only.
c.
Everything in the home.
6. You must have a Health & Safety policy:
a.
If you work from home.
b.
If you employ 10 or more people at your home.
c.
If you employ five or more people at your home.
7. If you are thinking of running a food or catering business from your home:
a.
The same rules apply as if you were a food or catering business from high street premises.
b.
It is your decision and you have no need to inform the local authority.
c.
Certain rules apply to this sort of business, which you can easily find on the Internet.
Points are given like this:
1. a) 0 b) 3 c) 2
2. a) 2 b) 1 c) 3
3. a) 2 b) 3 c) 0
4. a) 1 b) 3 c) 2
5. a) 3 b) 1 c) 2
6. a) 1 b) 0 c) 3
7. a) 3 b) 0 c) 1
Add up the scores from your answers.
How did you score?
3-8: You lack understanding about the basics of health & safety in the home working environment. You should take action to read more on the subject and seek advice from the Health & Safety Executive.
9-16: Although you have some knowledge about health & safety rules when working at home, you fall short in some areas. It would certainly be worth studying what the government's Health & Safety Executive has to say on the subject and making sure you adhere to the rules.
17-21: You have a good understanding of the rules regarding health & safety for a business run from the home. You will know, however, that you cannot rest easy as you should regularly check the rules and the safety of your own environment to make sure you still comply.
You might also like...