Working With Your Spouse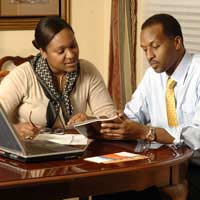 When you're running a business from home it seems almost natural for your family members to get involved. But there are important things to consider before going into business with your spouse.
Before getting into the legal niceties involved in running a small family firm, you should first think about the practical and emotional aspects. The harsh fact is that most new businesses fail. Can you afford to put all of your economic eggs in one basket? Is your spouse forfeiting a potentially good income to take part in your risky business venture? Perhaps that income could have provided the vital support the new business needed to see it through difficult times early on.
There are also emotional issues to consider. Running a new business can often be stressful, particularly in its early stages. Traditionally, home life is often a respite from the pressures of work. But with both of you involved in the company's affairs, it might seem impossible to get away from business problems. Will this ruin the time you spend together?
Even if the company's problems are not overbearing and oppressive, you should ask yourself whether you have clearly defined what role each of you will play within the company or are you approaching it in an ad hoc way in which either of you can just pitch in with anything? The latter approach often leads to problems, with one partner intruding on the other's perceived turf, resulting in a spiral of disagreements over how to proceed, a deteriorating relationship and a deteriorating business.
Formal Agreements for Family Firms
Before entering into business with your partner, it is highly advisable to draw up a formal agreement between yourselves. This can prevent a great deal of strife later on if either of you decides to withdraw from the business. Very often couples happily ensconced in a stable relationship neglect to do this. They think their marriage will endure forever, and so such arrangements are unnecessary. But relationships can change and disruptions to a marriage can fracture or destroy a successful business. Formal agreements don't eliminate this possibility but they do make the danger of it less acute.
An agreement should cover such things as your relative responsibilities within the partnership, your financial investments within it, the share and form of remuneration each will receive, whether business decisions must be agreed by both of you or not, the right of one of you to buy out the other's stake, and what will happen in the event of death or incapacity of one partner.
Tax Implications for Family Firms
There are some potential tax advantages in being involved in a business with your spouse. For example, if your spouse pays tax at a lower rate than you, dividing the company's income between you should allow you to save on tax. Be aware, though, that this practice has been controversial in recent years and HM Revenue tends to look with disfavour on these types of arrangement.
The Revenue has been involved in litigation for years against the couple behind the business Arctic Systems (known as the Jones vs Garnett case) for exactly this reason. The Jones family paid themselves low salaries as employees of the company and took most of their income as dividends, split between the two of them. The Revenue said they were trying to cheat the system and sent them a huge tax bill. Litigation ensued and there have been many twists and turns in it over the years since it started in 2003, with one side winning a favourable verdict, only to have it overturned by another court. The process does seem finally to have reached an end in 2007, though, with the family being vindicated and the Exchequer overruled.
However, the government has threatened to introduce new legislation which will unambiguously support their original view of the matter. Therefore, accounting contrivances like this may still save you money for a while but don't count on them being there long term. In any case, you should take an accountant's advice on the matter.
Going into business with your spouse can either have a tremendously enriching or completely catastrophic effect on your relationship. You may find the joint creative challenges of the new venture either bind you together or pull you apart. But by contemplating the potential pitfalls in advance, you'll increase the likelihood of a happy ending.
You might also like...