Eco-Friendly While Working From Home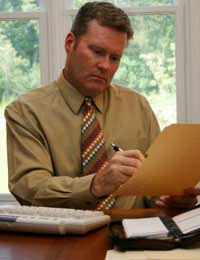 One of the great advantages of home-working, from the perspective of society as a whole, is how environmentally-friendly it is. No more rush-hour commutes for you means far fewer dangerous carbon emissions for the environment.
But just because you're more eco-friendly than the average British worker doesn't mean you should grow complacent. Good can always be better. And once you're in the house all the time, using all that expensive computer equipment to perform your work with, you can expect your energy usage to go up quite a bit too.
So what steps can you take to make your home work environment more environmentally-friendly?
Energy Efficient PCs
The best way of minimising the energy usage of your computer equipment is to select it appropriately in the first place. Unfortunately, this isn't easy. Though a number of standards exist which supposedly indicate environmentally-friendly or energy-efficient equipment, these are now so outdated that, in the opinion of most experts, they have little real value. Even bottom-of-the-range equipment can now meet many of these standards without difficulty. So, for the most part, you'll be on your own.
If you take the view that some standards are better than none, however, Energy Star is probably the one you should look out for. Originally an American standard, it was adopted by the European Union in 2007, and you should be able to find a number of PCs and monitors which bear its tell-tale markings in the shops. One standard that definitely is worth paying attention to is 80Plus. It relates to your PC's power supply and indicates that it achieves at least 80% efficiency.
A number of PC manufacturers have begun to market what they claim are "green" or energy-efficient PCs. Of course, without effective regulatory standards, you'll just have to take their word for it. But if you can find a manufacturer you trust, this may be a good option.
If you're concerned about keeping down your use of energy, you should consider buying a laptop instead of a desktop PC. Laptop manufacturers have been concerned about power consumption for some time because they design their equipment to run for as long as possible on batteries. As a result, a typical laptop uses about one third the energy of the average desktop PC. External monitors, mice and keyboards can be plugged into a laptop if you find it uncomfortable to use in its basic form.
Buying Green PC Equipment
The most important thing to bear in mind when deciding what green PC equipment to buy is not to get more than you need. More powerful equipment uses more energy. Graphics cards, for example, are some of the worst energy offenders.
But if you're using your PC to run a word processor and a spreadsheet, do you really need the latest and greatest graphics card designed to run high resolution 3D games?
LCD monitors are another of the major offenders. And their energy usage increases dramatically in line with screen size. A 24" LCD, for example, typically uses about twice the energy of a 19" LCD.
So trim the specification of the computer you are going to buy to your actual needs. Business PCs do not need to be overly powerful.
A second important consideration is that, in general, wired uses less energy than wireless. Wireless is all the rage. We have wireless mice, wireless keyboards, wireless routers and, soon, wireless USB will probably be commonplace. Sending all those signals back and forth through the ether takes energy, though, so ask yourself whether you really need the convenience that comes with a wireless connection.
Using Your PC in an Energy-Efficient Way
If you're using a recent version of Windows, you'll find that the operating system itself has power management settings which affect your computer's energy consumption. Essentially, you get to choose between a number of profiles corresponding to the way in which your PC is used.
Each of these governs a number of more finely-grained settings which determine such things as how quickly power to the hard drive is cut off after it has been idle for a while. Because you are using your computer only for business purposes, you should be able to get away with a conservative power management scheme which saves the maximum amount of energy.
Green campaigners in recent years have drawn attention to how much energy our electronic devices use even when they're not being used. Studies in advanced industrialised nations have shown that "standby" power accounts for between 5-10% of all household energy consumption. Unplugging your computer equipment when it's not in use is a good habit to get into.
Non-Energy Aspects of Green IT
Energy usage isn't the only consideration if you want to work from home in an eco-friendly way. Another thing to bear in mind is the problem of e-waste. All the electronic equipment we buy and then chuck away has to be disposed of somehow. A great deal of it ends up being sent to the third world where it is manually picked apart by some of the poorest people on earth. This work exposes them, and their environment, to a wide range of toxic chemicals.
EU rules now oblige electronic equipment manufacturers operating in Europe to make available free and ethical disposal procedures for their products. In a sense, then, the toxic chemicals issue doesn't affect you directly. If you want to be an eco-friendly consumer, however, you may want to let your purchasing decision be guided by how those same companies approach the issue elsewhere in the world, where they are not so constrained by law.
Greenpeace maintains a regularly updated "Guide to Greener Electronics" which ranks the major equipment manufacturers according to how responsible their toxic chemical and e-waste disposal policies are.
Eco-Friendly Home Business - Conclusion
The energy consumption of our IT equipment has grown dramatically in the last decade as it seemingly becomes ever more powerful. By carefully selecting that equipment in the first place, however, and then using it responsibly, you can both help the environment and cut down on your electricity bills.
You might also like...