Setting Up a Home Office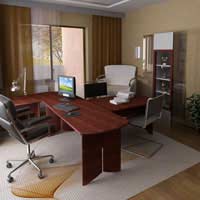 Setting up a home office is an essential part of starting up your new business. Most people pursuing a career at home will be working on their computers much of the time but even if the nature of your business doesn't require that, you will still spend a fair amount of time on administration and record-keeping, for which you'll need a home office.
Home Office – the Basics
Ideally, you can set aside a room in your house especially for your office needs. This will allow you to focus much more on your business tasks, away from any household distractions. If you have a distinct part of your house which is used only for business purposes, it can also help when making expense claims against taxes.
Should you get a separate telephone number for your business and perhaps a fax line too? It really depends on how much you use the phone when conducting your business. Certainly, it can detract significantly from any image of professionalism you're trying to project if your 7-year daughter answers the phone when a potential client is calling. In a similar vein, listing a fax number on your web page or business card adds to your image of professionalism. Having separate numbers for business and home life can also be a great help when you want to claim your expenses back against tax. If your business and personal calls are all jumbled up on one line, it can be very difficult to disentangle them.
If you don't want to pay for a separate telephone line for your fax machine, you could think about some of the web-based fax services which are available. In return for a small monthly fee, you will get a new telephone number which clients can use to send you faxes. In reality, the fax won't come to you at all, but to the service company, who then scan it into a computer and send it to you as an email attachment. It's just as good as the real thing, without all the hassles. And it's often more convenient to be able to archive faxes electronically than having to keep all of those tiresome bits of paper.
Home Office Computer
Of course, you'll need a computer for your home office. PCs still dominate the computer market but, for most purposes, Apple Macs are viable choices too. If you've used an Apple Mac before and know it can do everything you need it to do, great; otherwise, PCs are the safer option. Unless the nature of your business demands extraordinary computer processing power, for example if you are involved professionally in digital video editing or the like, you shouldn't really need a state of the art machine, with all the latest bells and whistles and fancy graphics cards. For web browsing and document processing tasks, a basic PC should be sufficient. That said, if your work is such that you will be spending much of your time on the PC, you'll at least want something that's going to be comfortable to use. A good mouse, keyboard and monitor can make a world of difference when you're using the PC regularly.Once you have a computer, you'll need an internet connection. Broadband connections are available quite cheaply these days so there's really no good reason not to get one.
You will also need a good printer. Even cheap printers produce fairly good output these days so you shouldn't have much to worry about there. Do watch for running costs though, if you're going to be using the printer a lot. Some manufacturers give the cartridges for their printers idiosyncratic designs so they can make lots of money selling them to an essentially captive market. You should also consider Multi-Function Devices (MFDs). These act as combination printers, scanners and fax machines.
Software for Your Home Office
You will need office software for your new PC. Like it or not, Microsoft office software is pretty much standard worldwide. Most of your clients or potential clients, if you're sending proposals or other documents, will expect to receive them as Microsoft Word files. PowerPoint is the standard for presentation software, and Excel for spreadsheets. This doesn't mean that you need Microsoft Office. It does mean you at least need compatible software. First, check to see whether you already have Microsoft Office software on your PC. It oftens ships with new computers.
Don't worry if it's not the latest version. There are usually very few changes of significance from one release to another. If you don't have it at all, you will need to buy it or get something compatible. You don't need to spend money if you don't want to. There is free office software which is fully compatible with Word. For example, you can download the free office software suite OpenOffice at www.openoffice.org or you can use Google's web-based office software Google Apps. Both of these will allow you to read or save files in Microsoft Word and Excel formats and OpenOffice can handle PowerPoint format too. StarOffice is a jazzed-up version of OpenOffice which is sold commercially at a cheap price. Or you could always get the real thing.
As a small business owner, you probably won't need to use project management software. If you do, though, you'll find that Microsoft Project rules the roost in that field too. For a free alternative, take a look at OpenProj from Projity.
Conclusion
As you can see, setting up a home office needn't be an expensive proposition. A basic PC and some low or no-cost software can set you on your way.
You might also like...