Flexibility of Running a Business from Home: A Case Study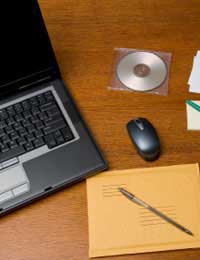 When Roger was made redundant at the age of 46 in 2004, he decided to give up the £45,000 a year corporate lifestyle and try and make a go of it by setting up his own business and working from home.
Roger had worked in IT for 25 years for large financial corporations – banks and insurance companies – but had become fed up with the internal machinations and politics of the big beasts and the redundancy pay-off made up his mind. It was time to start anew.
"The company politics got too much for me," Roger says. "There were as many people trying to stop you doing something as there were others who were trying to get you do it! There's such a lot of time, energy and money wasted in big companies."
New Business
With a background in IT, and some experience in website design and programming, Roger decided to set up his own website design business. He knew there was a lot of competition, but being in charge of his own destiny held great appeal.
Roger says: "Being able to decide my own work was a real attraction. However, nothing is as simple as it appears.
The thought of running your own business and making your decisions is great in theory. The fact is, however, that you are reliant on other people and other businesses to provide work and pay for you."
It wasn't easy and turnover in the first two years was under five figures.
"It was a bit of a culture shock," Roger admits. "Forty-five thousand a year fell to a tenth of that in the first two years."
Flexibility
Nevertheless, Roger soldiered on and realised that money wasn't the most important thing in his life.
"I had been stressed out working for the large companies and I had come to dread Monday mornings and the start of a new week. With a young family growing up, the flexibility that working from home could bring was very useful."
With his new career at home, Roger was able to help his wife with kid-carrying, household maintenance and other things that used to get left to the weekend.
"The flexibility is excellent, but I still tried to maintain a professional outlook on my new business," Roger says. "So, it's up at 6.45 every day, and into the home office by 7.30."
Luckily Roger enjoys dealing with the finance of his home business. "You have to keep on top of finances. If you let piles of invoices and bills build up, you'll soon be overwhelmed and find yourself unable to work as you try to dig yourself out of the mess. Cash flow is critical. You have to build up some funds as early as you can and keep a decent float in the business coffers. There are often things that crop up that need dealing with and paying for immediately – like new hardware and software."
Perks
As well as the flexibility of the work-at-home lifestyle, Roger says that you have to view outings to courses, meetings and the like as a perk.
"Such meetings and outings when you're working for a big company are a pain in the neck," says Roger, "but when you've arranged them, you can justify them and you know what they're for, they actually become a pleasure. Everything you do has a real purpose."
And getting out of the office is very important too. "You don't want to become stir crazy!"
Something to Last
Roger's turnover has improved in the last few years, and he is able to pay himself more now than in the early days. The credit crunch and recession have made life tough in the past couple of years, but Roger's committed now.
"My salary is nowhere near the £45,000 I was getting some years ago, but I wouldn't go back now. Apart from the fact, 'they' wouldn't have me, I'm having far too much fun running my own business to get buried in large company bureaucracy again.
"I'm trying to build something that will last. I already use freelancers for projects that I can't complete myself, but I try to treat my freelancers with respect and make sure they get paid a fair whack and on time."
What's the biggest thing that annoys Roger about running his business from home?
"Late payers," he says. "They are the bane of a small business's existence."
And guess who's worst: "The big companies," says Roger. "They just don't care."
You might also like...