I Set Up a Leaflet Delivery Business: A Case Study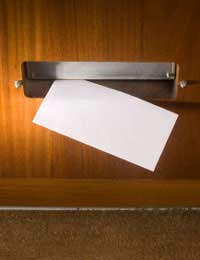 The 2009 recession has been hard on a lot of people, yet many companies have made great attempts to keep people in employment rather than making them redundant. Although this can undoubtedly be seen as a positive aspect of the recession, for some people it has meant that they suffered a cut in wages.
Wage Cut
One such person was printer John Harris who kept his job, but along with the other staff at the company, had to take a 10 per cent cut in wages.
"It came as big blow," says John. "This year's holiday plans were immediately shelved. I appreciate that the company had to take some action, and at least we kept our jobs, but it was a depressing time."
Positive Action
Instead of moping and moaning, however, John decided to take some positive action. His shift pattern at the printer's means that he works "two days on, two days off" except for Sundays. So, one week he works Monday, Tuesday, Friday, Saturday and the next week it's Wednesday and Thursday. John had occasionally filled some of those days by delivering Yellow Pages, BT and similar books for large delivery companies, making some extra money a few times a year.
When the 10 per cent cut hit, he wondered if he might turn this activity into a more regular, reliable source of income. His thoughts turned to starting a small home business delivering leaflets for local companies, but he had no idea how to go about it.
"I have some friends who run their own businesses, so I asked them how to go about it. One thing I have found is that people who run their own small businesses are very willing to help new people do the same. It's almost like a club – fighting against the big guys!" John says.
John trod cautiously as he had little or no cash to fund a new business. However, he soon realised that start-up costs for a business like his could be negligible. He spoke to his local Business Link co-ordinator, and then to a bank manager. "When they knew I didn't want to borrow any money, they were very helpful," John says, with a twinkle in his eye.
Keeping Costs Down
Starting up as a sole trader meant that there were virtually no overhead costs as there would be with a limited company. John knew he needed a website and (with a tinge of irony) would need his own leaflets, but other start-up costs have been negligible.
"I have no spare cash to splash on this venture," he admits. "It's got to be virtually zero outlay, and needs to pay for itself very quickly."
One of his business friends set up a website for John at cost (less than £25 for the hosting and domain for the first year), and he got some A6 leaflets printed by another printer he knows. He hopes also to offer leaflet printing services for companies, so this printer knows he will get first refusal on printing work in the future.
"I hope to be a one-stop shop for local businesses who want leaflets designed, printed and delivered," John says. "I've got a printer and a designer I know, and I'll be doing the legwork."
Building the Business
Despite his willingness to pound the streets himself, John has also been shown by his business friends that to build the business into something bigger, he will have to use other people.
"I'd hate to turn away a 50,000 leaflet drop if that comes my way, so I know I'll have to use other people," John says. "I know that's the way I can grow this business into something that might give the family back their annual holiday – and hopefully a little bit more!"
You might also like...