Virtual Business, Work at Home: A Case Study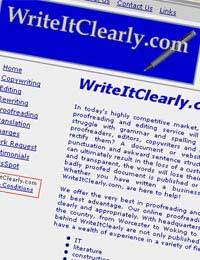 In 2004 several writers and proofreaders were brought together by a new mobile phone publishing business. Sadly the business (Kwickee) came unstuck, but some of the writers who met during its brief existence decided that their skills were worth combining into a new business venture.
Virtual business
In January 2006 Garry Pierrepont, Romany Howes and Marilyn Owen became partners at WriteItClearly.com. With Garry based in Surrey, Romany based in Worcester and Marilyn based in Hertfordshire, these three created a true virtual business for the twenty-first century.
"We had only met each other once before, at a Kwickee meeting, but there was enough belief in each other's abilities to try something new," says Garry. "We had a real meeting at Oxford Services on the M40 and created our business over coffee and cake!"
The three were already working from home on individual projects, so it was easy to merge the activities of the new venture with their own. The set up costs were negligible and over the first few months they each put in £300. There were no loans from anyone else; thus, the business was set up for less than a thousand pounds. Armed with a website and business cards, they quickly went … nowhere.
Turnover boosted
"We were very green in that first year," admits Garry. "We got about three pieces of work, but we did no marketing – apart from the website – and no advertising. I guess we thought people would just find us somehow … but they didn't."
In January 2007 the AGM of WriteItClearly.com was held virtually, using MSN (now Live Messenger) as the medium. Despite the lack of work in the first year, they decided to carry on – but this time with a bit of marketing. They enhanced the website, joined several provider websites, joined online networking sites such as Ecademy, LinkedIn and Network 2Connect and began to get their name better known in the industry.
Communication between the three was, and is, carried out mainly by email, with some contact by Live Messenger. They rarely use the phone (though Garry says his BlackBerry is invaluable!), and only meet once a year for the AGM in January.
The efforts to make the business more established paid off in the second year. Turnover increased to £6,500 with no loans. Boosted by this, the target for turnover in 2008 was set at £21,000, and exceeded that, reaching nearly £22,000.
Path to Success
The three partners carry out much of the work themselves – and get paid for it – but realise that the path to a really successful business is to outsource work to contractors.
"We now have a core of writers, proofreaders and editors, numbering about 20," says Garry. "They come, they go, but with that number we can cover most work we get in at the moment."
Being a virtual business, there are no international boundaries and WriteItClearly.com has had clients from all over the world. "We've corrected a lot of theses written overseas, but I'd really like to correct a few 'translated' websites. We have approached a few, but not many people like being told their writing is poor!"
Turnover for 2009 is targeted at £37,000, and the three see no reason they cannot reach this. "So far, we have not been impacted by the recession. Work keeps coming in."
However, they're not naïve enough to believe that success last month means success the next.
"Potential earnings vary from month to month," says Romany, "so we have no set pay structure. That can make family budgeting rather awkward! And we don't get enough holiday either!"
Despite the lack of holidays, Romany has seen great benefits from working from home in this virtual business. "The freedom to work remotely and at a speed that suits is invaluable. We have great flexibility in working patterns, so that it's never nine to five. Probably the biggest lesson we had to learn was to get into the habit of looking for our own work rather than expecting it to be given to us."
"We're passionate about what we do," says Marilyn. "I love the written word, and turning someone's notes into a credible thesis or book is so very rewarding."
Future
Gazing into his crystal ball, Garry is optimistic for the future. "I love doing the finances," he says, "and my old job was in IT as a capacity planner, so I'm used to making forecasts. We plan to increase turnover to £50,000 in 2010 and £60,000 in 2011. We've come a long way from less than a thousand pounds in 2006!"
They already have some prestigious clients: National Housing Federation, University of Hertfordshire, Addison, Headlines and Direct Traffic Media are among them.
"They keep coming back, so we must be doing something right," says Garry.
Is there anything that WriteItClearly.com would have done differently? "Oh yes," says Garry. "We should have begun marketing from day one. We'd be a year further down the road by now!"
You might also like...
Hi I wonder if you might have any vacancies working for you? I have over 20 years' of office-based experience and would very much like to start up business as a Virtual Assistant. I have a degree in Social Science gained from Coventry alongside various other qualifications. I am struggling to find suitable work from home and have been going round and round in "ever decreasing circles" - to coin a phrase.I have a disability (hydrocephalus) which has affected my balance and walking a great deal which is why I had to give up my last post. I do not have any other skills, so that is why I have tried (and failed) to find any suitable posts working from home. I would be most grateful if you could at least offer me some advice where this is concerned and point me in the right direction. I thank you for your time. With kind regards. Diane Broad
Diane B
- 11-Apr-14 @ 5:00 PM