Printing Business Moved Office Functions to Home: A Case Study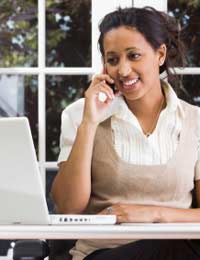 For any small printing business, margins are tight. If some one asked me whether I wanted to pay for some paper twice, I would have thought they were mad. Yet that's exactly what I was doing within my business on core office costs.
The office was at the same location as the machinery, yet I had phone lines, broadband and a home office at home. On any given workday I would get up at 7am and do some admin with a cup of coffee for a couple of hours in the peace before going into the office to continue with the working day.
Don't Pay Twice!
When the recession started to bite, I had to look baldly at our costs and make some tough decisions. One of them proved an unqualified success. Because I suddenly saw how my company was being 'mad' in just the way I outlined in the last paragraph. We were paying for our paper twice. I was paying for phone lines and broadband services at the office, and paying for them at home.
In addition I was paying for all the costs, real and environmental, of driving into the office and back. But all of that paled beside the costs of renting office space when the business only (really) needed the machinery floor.
Even worse than that my real productivity at the office was so much lower that (subconsciously) I had already started getting most of my key tasks done in the home office. That was why I got stuck into things at 7am at home instead of going straight into work. Of course not all businesses involve noisy machinery, but most can present distractions of one sort or another.
Cancel the Office!
So a few months ago I just cancelled the office broadband, stopped renting the office space and put the workline through to our home provider as a second number whenever I felt it necessary. The rest of the time the machine-minder got the calls and let me know when I phoned in. It was as simple and quick as it takes to tell it. Immediately the results began to show, I stayed in the home office rather than flitting around, and without the distractions of clunking presses. I got more done.
Even better, without the distraction of me wandering around suggesting a coffee or interfering with him as he ran the presses, so did my production guy.
Positive effects
By getting on top of our core costs, we actually had a positive effect on our core productivity. I had free time in my day, and I could start to look at other revenue generating ideas in a way I never had before. With the money we were suddenly saving it was feasible to re-vamp the website, get some marketing materials printed and hit the streets. If it was raining, which it often is in Somerset, there was a whole world of online advice and real life business success stories to investigate and learn from.
Suddenly I was able to look up and see where I was taking the company. We were saving money and at the same time becoming a better business. Literally spending less and earning more.
You might also like...