Work at Home Photographer: A Case Study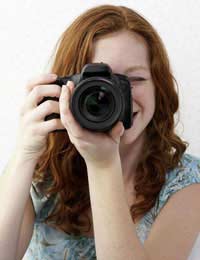 From the age of five Kelvin Hudson was taking photographs, which turned into a strong passion at the age of 16 – some 35 years ago. The passion lives on to the present day and Kelvin turned his passion into a career at home around 23 years ago.
Passion
Kelvin runs his business, Kelvin Hudson Photography, as a sole trader from his Dublin home. It is evident that from a young age, Kelvin was keen to incorporate his passion with his career – not something that everyone manages to do. He spent three years at Salisbury College of Art, then one year as a freelancer and assistant in Los Angeles. Kelvin continued his unofficial apprenticeship by working full-time for a photographer in London for a further two years, before doing more freelance work in advertising and editorial photography. Having served his time, he decided it was time to go it alone.
Kelvin is essentially a landscape and portrait photographer working with advertising agencies and design groups. "For example," he says, "it might be a car in an urban or rural landscape as part of an art director's brief which could end up on posters, or in trade or consumer ads, or packaging." He has still life, family portraits and work with editorial magazines in his current portfolio. One recent project was for a music album cover.
Office at home
Kelvin has an office at home in Ireland, where he works on all business and creative work. Regarding a home studio, he says: "I don't have a home studio as such, although I have used premises for simple set-ups. I have options on studio hire which works well for me."
Kelvin's career at home is mainly himself as a sole trader. But he does use freelancers when required, including photographic assistants, stylists, hair and makeup artists and models. "Budgets vary," he says, "so I have to employ accordingly." As well as using photographic software at home, Kelvin sometimes uses other people to work on "post production" of the photographs, but there is a large dependency on budgets and deadlines.
Kelvin says having his home as his business base makes sense as he does a lot of work on location. "The economics are simple – working from home avoids the overheads of a studio or an office," he explains.
Attracting new business
Kelvin has built himself a handy reputation, but still continues to promote himself to attract new business, and to inspire existing clients into new commissions. He has a website (www.kelvinhudson.com) and, inevitably in these modern times, maintains his own blog. "I also have," he says, "a vast amount of images with an online creative stock library which generates commercial usage sales as well as limited edition print sales."
Kelvin enjoys the flexibility of working from home. "It gives me the freedom to attend to business matters when it suits. I may be in the office late at night, up early, or take time off when appropriate. Working from home avoids such things as company politics, gossip etc. I'm also pleased that less travel means my business is environmentally friendly." Additionally, Kelvin is pleased to avoid travelling at peak times with the associated cost, time, frustrations and stress. He can schedule meetings to avoid peak time travel. Also, he admits, "If I'm not meeting people, I have the freedom of not having to shave if I don't want to, and to wear what I want!"
It's not all rosy
However, there are some drawbacks to a career at home, Kelvin admits. "Before going digital, I would often visit suppliers, such as printers and framers, and discuss matters at the local professional shop. Now he notes he's become more isolated. "Self-discipline and motivation are paramount as it's so easy to put things off, especially when you're NOT actually working on a specific job. There are potential distractions such as family matters, people at the door etc."
Kelvin also acknowledges that there is no security when working for yourself. "You are totally responsible for the decisions you make. You need to be strong to deal with bills, banking, accounting, VAT and tax issues, which is tough in the current economic times. And you have to deal with your own health, benefits and pension provisions."
Kelvin ends on an upbeat note. "I know it's not for everyone, but I would definitely recommend working from home."
You might also like...