Being Wary on the Web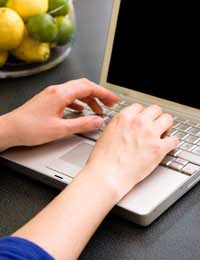 The internet is a great tool. It has revolutionised the way we live and work. Many types of freelance career that would have been impossible in the old world of telephone and postal communication now revolve around the internet as their central hub. Freelancers can find themselves working for clients all across the world thanks to online communication. But there are potential pitfalls to be wary of too.
The Perils of Internet Anonymity
One of the key characteristics of the internet is the anonymity it affords us. This can be both a good and bad thing. There is a famous cartoon of a dog sitting at a computer monitor and pawing at a keyboard. "On the internet, no one knows you're a dog," the caption reads.
There are many great websites and portals out there where freelance workers can find work. Some are based on the concept of bidding. Freelancers register on these sites and enter bids for specific packages of work which are put out to tender. In almost all cases, the website gets some kind of cut from any deals which are made in this way.
Sometimes, you must pay a subscription in order to be able to bid; in other cases, you may pay a percentage of any payment you receive through work you find on the site. Other sites may be much simpler, such as forums where work offers are posted or websites where adverts appear.
One thing nearly all of these sites have in common is the anonymity they afford to those offering work. In some cases, the adverts will link to the prospective employer's website or provide plentiful details about the nature of the business. But this is rare.
More often, you will be replying blind. You may think that such anonymous adverts are a little insulting to the prospective workers, and you would just turn your nose up at them rather than respond. Perhaps. But many freelance work offers are like that and your pride may cause you to lose out on a lot of potential work.
Being able to make judgements about the seriousness of anonymous work offers on the internet is a skill many freelancers have to develop. Here are some things to look for. Is the advert well-written? Does it seem like a professional communication? If the English is less than perfect, does it suggest that it was written by a non-native speaker? Countries like India have emerged as important centres for outsourced work from the West. In some cases, outsourcing companies there may even try and recruit freelance Westerners. But most Westerners would find it hard to make a living on the kind of wages they are likely to be offering. Is the advert explicit about compensation? Does the advert state the name of the company or link to its website? If so, you can pay it a visit and make a judgement about whether this is a serious operation or not.
One thing to be wary of is potential clients who demand lots of free samples from you in return for the possibility of work. Of course, you should have a portfolio of work you can demonstrate to anyone who asks to see it. Some clients will ask you to produce an additional free sample for them, however. Good ones will offer to pay for it if it's acceptable. But many won't. And some may even demand that you produce further samples after that, all according to their instructions, of course. What are they doing with these samples? Just reading them, or actually using them somewhere as part of their commercial operations? You won't know.You could argue that your portfolio should be sufficient to allow them to reach a decision. Perhaps. But samples are often expected. You will have to make a decision yourself about whether or not it is worth investing your time doing unpaid work in return for the possibility of paid work in future.
Being Paid for Work You Have Done
In most cases, while doing freelance work, you're only going to be paid after the work is completed. But you may only know your client from an email or two, and not infrequently these are from Hotmail or otherwise easy-to-setup and hard-to-trace webmail services. So what guarantee do you have that you will ever be paid? Well, the short answer is none. Some sites which mediate between freelance workers and clients, however, do incorporate feedback systems, similar to the eBay system if you've ever used that, where such transgressions can be noted and left permanently on the record. Assuming that the person you are dealing with has a history of trading through that system, this creates quite a strong deterrent against anything underhand.
Forums are another great place for feedback. Whatever your speciality is, there will undoubtedly be discussion forums related to it on the internet. You should frequent these. It's a good way to pick up tips, job offers and warnings of scams or untrustworthy clients.
Conclusion
The internet has been a great liberating force for many of us, allowing us to pursue careers that would never have been possible only a few years before. But it does have a dark side and you need to learn to be wary if your home-based career is to have a chance of success.
You might also like...
I was caught out by this last year. I applied to do some freelance writing work.it involved writing product reviews. I did loads of work on it and had a contact email address. When I tried to get paid I got no response from the email. The website that I had supposedly been doing the reviews for had never heard of this person.but I am willing to bet he used the review elsewhere. Needless to say I never got any money. Do a trial and ensure you get paid for it. Always get a contact address and number that you can verify too
Caughtout
- 21-May-12 @ 7:02 PM