Mortgages for the Self-Employed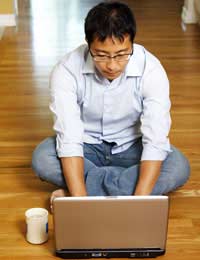 Home ownership seems to be a national obsession in Britain. While people in other countries are happy to rent accommodation for most of their lives somehow we just don't feel complete unless we have a place of our own. This can be a special problem for the self-employed as they tend to find mortgages much harder to get than other types of worker.
The reason is that standard mortgages are usually offered on the basis of a simple multiple of your yearly income, usually 3.5, sometimes more. The problem for self-employed people is that their income is highly variable, they often have little assurance about how great it will be in any given year and, even when they do, it is difficult to demonstrate this to others.
Mortgage Options for Self-Employed People
It certainly is possible for self-employed people to get mortgages, just more difficult. Some lenders will insist that you have been trading for at least one year, for example, before they will consider your application. They may demand that you produce certified accounts for the past two or three years to show your business income, although sometimes a written declaration from your accountant will suffice.
Many different types of mortgage exist. Some that might be especially well-suited to self-employed people are offset mortgages and current account mortgages. In both of these mortgages types, any positive bank balances you have reduce the amount of interest you have to pay on your mortgage. For example, if you have a mortgage for £100,000 and £5,000 in the bank, you will only pay interest on £95,000. In the following month, if you have £10,000 in the bank, you will pay interest on £90,000 and so on.
Current account mortgages mix your bank balances and your mortgage debt together into one account; offset mortgages work in a similar way, but both balances are held in separate accounts. These kinds of mortgages offer much greater flexibility for people with variable incomes. You can pay a lot off one month, nothing the next month and so on. Effectively, you will be getting an interest rate on your savings equivalent to what you are paying on your mortgage, which is usually highly competitive. It should be noted, however, that the basic interest rate charges on offset and current account mortgages are usually higher than on the more conventional kind.
Self-Certification Mortgages
A common problem for self-employed people seeking mortgages is that, for tax efficiency reasons, they may attempt to minimise what appears to be their income. Naturally, if your eligibility for a mortgage is based on your income, this can impose serious constraints. One way around this problem is what is called the self-certification mortgage. This essentially involves you telling the prospective lender what you think you can afford to borrow and repay and they just take your word for it. Nice! Naturally, though, the risk to lenders is much greater in these cases so, with most self-certification mortgages, you can expect to pay a higher interest rate and to have to find a larger percentage of the buying price as a deposit. Some specialist firms who deal in self-certification mortgages cannot be applied to directly. You will need to go through a mortgage broker. Competition in the self-certification mortgage sector is heating up, however, leading to better deals for borrowers. It looks like self-certification mortgages are on the way to becoming more of a commodity item. The Post Office, for example, has begun to offer them in some areas along with stamps and so forth. You can check to see whether they're available in your area yet.
Tax Advantages of Mortgages for the Self-Employed
With so many barriers in way of the self-employed becoming home-owners, it's good to find that there are actually some advantages too. If you use part of your home for the conduct of your business, you may be able to claim part of your mortgages interest payments as a business expense for income tax purposes. See our article on Income Tax for fuller information.
Conclusion
It's certainly much more difficult to find a good mortgage deal if you're a self-employed person but it's by no means impossible. Just shop around carefully and perhaps contact a mortgage broker for advice.
You might also like...