Tips for Time Management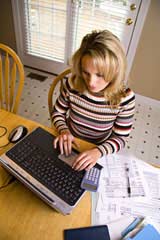 Working from home allows you to spread tasks throughout your week that you may have been used to cramming into the weekends when working in an office.
However, this does not mean that it is a good idea to have no structure to your time because you are likely to find that you start doing a domestic chore as procrastination of a work task or allow your 'To Do' list to build up.
The best way to maintain an effective work schedule when working from home is to utilise these top time management tips, designed to ensure that you get the benefits of home working without the stressful commute and office politics of a traditional work place.
Have a Morning Routine
It can be tempting to have a lie in as a 'reward' for not having to go into an office, but you will do yourself no favours. Getting into a morning routine is a great way to start the day. It doesn't need to be the 6.15 alarm wake up, but perhaps an 8am start, with a plan to get to your desk by 9. Your routine may include a few stretches to wake yourself up, a light, healthy breakfast (muesli or wholemeal toast, perhaps) and an invigorating shower.
Dress for Work
Just because you are at home it does not mean that you should dress as you do at weekends or in 'relaxing at home' type tracksuits and slippers! Get used to dressing for work - even if you do not meet clients regularly, it will help you get into the right frame of mind and define your time more clearly. It will also help your family and friends to appreciate that you are working.
Have a Dedicated Area for your Work
This will enable you to maximise your productivity because you will feel 'at work' rather than 'at home'. If you are not able to have a separate room or home office for your work, at least get used to having a particular area that you set up for work and clear away at the end of each day.
Maintain an Up to Date 'To Do' List
Once you have an effective 'To Do' list you will wonder how you ever did without it. Working from home means that you have to be very strict with your time and other tasks can seem so much more important that the tedious or difficult job that you really should complete first. Keep a decent notebook or hardback book on your desk and, each morning, write a list of what must be done that day, including any appointments or calls to return.
Establish Domestic Order
A benefit to working from home is that you can put on a load of washing or a casserole for dinner at any time. However, it you get used to a routine of domestic tasks you can allow yourself to switch off when you are working. Otherwise, you may feel as though the pile of ironing or bills ought to be done whenever it catches your eye.
Try to Maximise your Meetings
Having an appointment with a client can be a good marketing tool and will help you to utilise your time away from the home office. You can call other clients who are local to your appointment and say you will be nearby. The added benefit of this approach is that you will not have meetings dotted throughout the week and will not waste travelling time.
Don't Keep Checking your Inbox
Although email and the internet is a key part of why people are able to work from home, do not be a slave to your inbox. Spend half an our or so in the morning checking your emails and reply to anything as needed, but do not have the icon on your taskbar that pops every time a new email comes in because you will not focus on the work you are doing. It is better to set time in the morning, after lunch and mid afternoon, say, to check and deal with them, instead.
You might also like...