Juggling Home Business and a Baby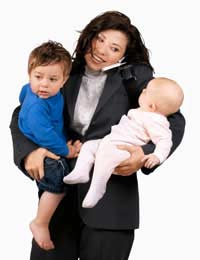 Juggling different areas of your life is always a challenge but never more so when you have to balance the demands of young children and a career. Do think about finding a good childminder or nursery as high quality childcare is a must when running a home business.
Get the best you can afford because after all your child comes always comes first. You can then put all your time and effort into your work knowing your child will be well cared for in a warm nurturing environment. In the case of a baby it is usually best to find a really good childminder as then your baby will receive all the one-to-one attention he or she deserves.
You may however, prefer to postpone leaving your baby with another person. In that case you will need all the help you can get from family and friends. You may be very lucky to have a good partner or spouse and in that case you will be able to share childcare and household chores.
The Value of Networking
What you need to do is to build your networks. Don't be afraid to meet new people and make friends especially those with young children hopefully the same age as your own. Keep networking both on and offline. Connect to other parents, grandparents and carers. You are bound to make new friends, contacts – and childcare swaps! Networking also benefits your career as it will enable you to find new clients and colleagues and help you to keep up with current trends and developments. In this way, networking will serve a dual purpose and this skill will benefit both family and career.
Hints and Tips
Do remember not to take on too much when you have a baby or small child to care for. You need to be there for your child and your family so consider reducing your amount of clients. As an experienced entrepreneur you already know how to grow a business so you can always replace lost clients later when your child is a little older or goes to day care.
Getting Enough Sleep
One age old problem is dealing with the effects of sleep deprivation when your baby wakes in the night.
If you find that you are not getting enough sleep at night why not take power naps in the daytime? In fact you don't always have to actually sleep. A good relaxing half hour while your child is asleep may be all you need to keep you alert and able to meet the demands of your work and your child.
Time Management
Allocate good quality time for your children and for your business. Separate them and wear different hats – you can be a wonderful parent and a successful entrepreneur. The important thing is to have your own space and regular uninterrupted time for your work. These days it is so much easier to combine parenthood with work as you can work online, communicating with clients by email and phone. You can do this with your toddler running about or your baby sleeping peacefully but for work projects you do need to make separate space and time and it cannot be overemphasised how important this is to not only for the success of your business but for your own sanity too.
If you are a sole business owner you need to be highly disciplined with or without children to care for. You will have no colleagues to nag you into doing your important but annoying paperwork for example. Don't forget it's important to set time aside for those business tasks that, like household chores, need to be done some time and at regular intervals.
You will find that you really have to prioritise your tasks now. It is vital therefore, that you don't take on anything unnecessary. For example learn to say 'no' when other people make demands on you. If what they ask you to do is not going to help you, your business or indeed your child then firmly and courteously say No.
What you may need to do is to outsource lots of small vital tasks. You cannot possibly do everything required to run a home with a child and also your business, so find a good bookkeeper if you need one, get someone to help with housework and then concentrate on the main aspects of caring for your child and organising and running your business.
As an old proverb says: "It takes a village to raise child." You are also working from home so make sure you find your village!
You might also like...