Working as a Remote Employee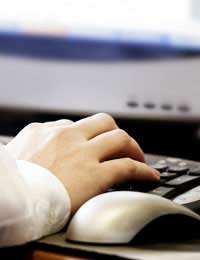 Working from home while in the security of regular job may sound like a dream to many people. It allows them to skip that awful daily commute and achieve a better work-life balance. But there are also some pitfalls you need to consider before you embark on a career as a telecommuter.
The first thing that will strike you is the social isolation. You may find yourself missing the banter around the coffee machine and the general office chit chat. Do you have the personal resilience to do without the invisible framework of emotional support that your colleagues in the office provide?
Even if you are able to motivate yourself without the presence of co-workers isolation can begin to eat at you in other ways. If you're a telecommuter, much of your communication with your fellow workers will probably be by email. Most of us are not good at conveying nuances of emotion through the written word, and emails are often written in an off-handed way. The result can be people taking offence at what they perceive as a slight in some email that was sent to them. Because this written communication may be your primary means of contact with the workplace, a few words can take on inordinate significance. The supposed slight may even be entirely imaginary. If you were chatting to the same colleague each day, you would have built up a personal rapport which would make such misperceptions unthinkable. That's why, if you are working as a telecommuter, it's good not to rely exclusively on email as a form of communication. Pick up the phone to speak to colleagues, or even use internet-based phone services such as Skype, and it can go a long way towards easing potential tensions.
Does Telecommuting Damage Careers?
You should also think about what effect your absence from the office might have on your potential career. Even if your measurable productivity and performance are just as good, or even better, when working from home as they were when you were working in the office, if you transitioned from an office role; or as your fellow workers, if there are office-based workers doing the same work as you, will that be enough to earn you a promotion when the matter comes up for discussion?` It would be nice to think that all of us are judged by our results and abilities alone. Realistically, however, most of us realise that office politics and social relations - call it networking, bonding, favouritism, whatever you like – play a large part in advancing most professional careers. Indeed, a survey of top executives published in 2007 found that 60% of them believed telecommuters would find it harder to advance than office-based workers. Yet, paradoxically, 78% of those same executives believed the remote workers were just as effective, or even more effective, than those working on the company premises.
Whether opting for teleworking will imperil your career is something that can vary hugely from one company to another. Some companies, mostly large ones, have made serious efforts to integrate teleworking into their workplace culture. Managers there will probably have been given training about the need to avoid the "out of sight, out of mind" instinct. Those companies also often organise events where remote employees meet up and get to feel part of the team so that they become something other than "email ghosts" to one another. Unfortunately, telecommuting is still relatively rare and few companies have adapted their career management culture in this way. That may change in the future as teleworking becomes more prevalent.
Access to training is something else to ponder as far as potential career growth is concerned. Is training a vital part of what it takes to progress in your chosen career? If so, as a remote employee, will you adequate access to it compared to office-based workers?If you can't be confident that your employer's corporate culture is such that full-blown telecommuting is compatible with a successful career, perhaps it's not the right move for you. Some companies offer partial telecommute work options in which employees work from home for two of three days of each week, allowing them to maintain workplace relationships and have access to proper training. This is also a good way to explore remote working and see how well it suits you, if it's something you've never done before.
Conclusion
Pursuing a successful professional career as a remote employee is difficult. It requires a certain personality type and a supportive corporate culture. So think carefully before you rush to accept that dreamy work-at-home job offer.
You might also like...