How to Serve Customers When Your Office is an Upstairs Bedroom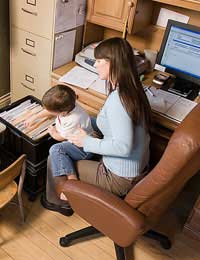 Servicing customers is the key to your business's survival – or rather, servicing customers well is – but achieving this does not necessarily lie in having a prominent office, or any office at all. In fact, one of the most important factors in ensuring you still offer great customer experiences despite your office being an upstairs bedroom is not allowing this to have a negative impact on your business confidence.
Professional is about more than place
Customers don't choose businesses based on their offices – if they did, the millions of home-based companies around the world would be in trouble! The nature of the 21st century means that many businesses can run perfectly well, virtually. All your customers are really concerned about is whether you can deliver what you promise to deliver. And that can be done just as easily from your home as it can a swanky city centre office.
The Same Rules Apply
Under-promising and over-delivering are good strategies to adopt when it comes to serving customers. We all know that good service – i.e. meeting expectations – will keep your customers happy; whereas great service – exceeding expectations – will keep your customers loyal. The same rules apply for a home-based business.
Customers are your business – treat them well and your business will thrive, neglect them and you'll be lucky if your business survives. Be flexible in your approach and offer customers solutions to any problems and not a one-size-fits-all attitude. Ensure you are always honest in what you offer however, as it is far better to be upfront and say something cannot be done than it is to promise and fail to deliver.
If you have a virtual team of employees, people who work for you from their own upstairs bedroom, make sure you treat them well too. They are still the face of your company and happy employees are more motivated to serve your customers in a prompt and friendly manner.
Remember you are still at work
When you work from home, it is easy for the line between work life and home life to become blurred. However, it is imperative that the line remains in place and distinct.
Make sure you turn your upstairs bedroom into an office. Just because customers can't see you, does not mean you can't be professional. You will still need the basics including a desk, computer and phone. Ensure the space is quiet, free from disturbances and distractions; treat the room as an office and run your company professionally.
Availability is also key. An enormous perk of working from home is that you can nip to the park, meet a friend for coffee, or have a lie-in and make up the time later in the day, if you feel like it. Be aware of customer commitments and deadlines though, you still need to plan your day with your customers in mind. If you have no current deadlines, it is important that you remain available and that customers can contact you. Keep your work mobile with you when you go out, for example, and when you are on holiday always change your voicemail to reflect this, along with setting your emails to out-of-office.
A meeting, please
In all likelihood, there will come a time when customers will request a meeting. Again, this needn't be a problem. Honesty is the best policy and you should tell the customer that you work from home and it is not a suitable place to meet. Never make the mistake of thinking it will be fine to meet at your house, because it won't. Home life will interfere with your attempts to be professional – whether it's the dog jumping up and barking, kids playing or the washing machine making a racket.
Simply suggest meeting at their office, if they run a business themselves, or a neutral place such as a coffee shop or hotel. Plenty of business meetings take place outside the normal office environment; some companies which do have offices occasionally choose to meet neutrally either for a change of scene or because it is a more convenient location for the customer.
If you ensure you run your business from the upstairs bedroom exactly as you would from a city centre-based office, you will encounter virtually no difficulties in servicing customers.
You might also like...