How Will Home Working Affect Others in My Household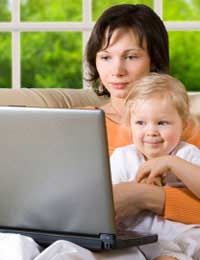 One of the major benefits of homeworking is the opportunity it gives you to balance life and work in a more healthy way. It means that when you take a twenty minute break you can walk the dog, do some gardening, play with the kids - instead of staring around the office with yet another cup of coffee in your hand! However that very closeness can cause friction between the others in your home. It's worth bearing a few things in mind.
Location!
For a start you need to do your work somewhere sensible. If it's possible to do so site your home office away from the main living areas. Most of us need peace and quiet to work effectively and it's important that you can get that. After all the whole point of working at home is to be productive and deliver for clients. However, it mustn't mean demanding that everybody else walk on eggshells. Your home-working should impact as lightly as possible on the other day to day activities of your home.
It's very easy to forget that your home needs to be a home, even if you're working in it. The day to day stresses of work, sudden deadlines, emails that must get replies and work that must get done can take over. Try not to let it do so. Whether it's a husband, wife, kids or even a pet it's vital that you take their needs into account, too. For example although you're probably using the internet, remember that others need to use it as well. Make time for them to do so, and try to avoid getting all holier-than-thou about the fact that you are working!
Can You Leave it?
Then there's the importance of being able to switch off. One of the major downsides of having everything for work there at your home is that there is always the temptation to 'just check the e-mails' never was the word 'just' more disingenuous!
If your evenings are family time, keep them that way. If necessary lock the office door but try to stop yourself from allowing the work to negatively impact on your quality time. With an office based job the demarkation is fairly simple, you come home and you can draw a line so try to do the same thing at the end of your working day.
Health & Safety
Finally there's the serious issue of health and safety in your home, which is of course also your workplace. The HSE is very clear and state that:
"Work-related incidents can affect not just homeworkers, but others in their home, including children and visitors. With homeworking, there are special factors like the presence of children, that can turn relatively minor hazards into significant risks and it is really important that employers address them."
The provisions of the 1974 Health and Safety at Work etc Act 1974 (HSWA) are important and they are clear - employers have the same obligations to protect the health, safety and welfare of homeworkers who are employees, as they do for employees on-site. Even if you are not employed its worth taking the time out to read the HSE advice – after all, its for your own benefit – and the benefit of those who share your home.
You might also like...