How to Stay Healthy When Working at Home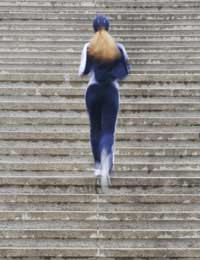 There is broad consensus among public health organizations that 30 minutes of physical activity a day has a massive effect on general health and well-being.
That sounds self-evident, but it doesn't translate into action – the latest research in Scotland (The Scottish Health Survey) showed that 67% of women and 56% of men did not do enough physical activity for their health.
Build Exercise into Your Day
Homeworking gives you a perfect opportunity to overcome that. None of the normal excuses apply - your trainers are right there, you know your way around and you know a jog is good for you – hey, there's even workplace shower facilities! It's really important, though, to build the exercise into your day, and then to be disciplined about doing it. Unfortunately you can chase a deadline and all too easily find that you 'can't afford' to take a break for a brisk walk. The truth is that you can't afford not to.
You'll find information elsewhere on this site about the specifics of your workstation but it's hard to overstate the importance of a good monitor, of natural light and of ergonomically designed work furniture.
Look Out For Stress
However, there's another element of your health as home worker which needs careful consideration – and that's stress. Anyone can suffer from it, no matter what type of work they do or how apparently 'high pressure' it seems to be. The key thing for a home worker is to watch out for the signs, because there is nobody else who can watch out for you.
Some of these signs are: sleep disturbance; drinking more; avoiding issues; finding yourself behaving indecisively; finding it hard to concentrate; feeling inadequate; losing memory recall and generally suffering from low self esteem.
It is unfortunately true that many home workers take on too much, when you are working at home and particularly when you are your own boss it just happens. However so do the side–effects and handling the stress of that can be very hard on your own. There's no HR function in the kitchen, and there's nobody who can lighten the load except yourself. There comes a point when pressure can become crippling and when it does you need to be aware of it and consider your options.
You Can Get Help For Stress
The first thing to realize is that you are not alone. The health and safety executive (2004) found that 12.8 million days of work were lost annually to stress-related illness. They also unearthed the sad statistic that well over half a million people were suffering stress at work so severe that they were conscious it was making them ill.
The second thing is to be aware that there's an awful lot of help out there for you. A good place to start is www.hse.gov.uk/stress which has an excellent page of links to organizations specifically created to provide help, advice and support. If you start to notice the signs of stress – and they can be cumulative, then the worst thing you can do is to ignore the problem.
You might also like...