Questionnaire: Do You Have a Professional Working Environment?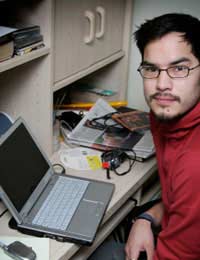 Now that you have set up your home business you will need to have a good professional environment. How organised and professional is your home working environment? The chances are there are several ways that you could improve it…
1. Do you have a separate space in your home where you can work free from distractions?
a) Yes, I have my own room that I use for my office.
b) I work at the kitchen table.
c) I just perch my laptop wherever I am sitting, and that is my home office.
2. Is your desk tidy and free from clutter?
a) I don't have a desk at all as I work wherever I happen to be.
b) My desk is clear and I keep all hard copies neatly filed.
c) It's usually in a mess and I can't find anything ever.
3. Do you allot a specific time each day which you can devote solely to your business?
a) No, not at all – I start work when I've finished all my other tasks.
b) I work every day at different times.
c) I work at the same time every day.
4. Are you punctual for online meetings and appointments with clients?
a) Yes, I note times of appointments and meetings in my diary and am never late.
b) I keep a diary but am sometimes late or even forget.
c) I forget completely about time and don't keep a diary.
5. Do you allow your children and spouse to interrupt when you're working?
a) Yes, they can talk to me or interrupt me at any time.
b) No, my work time and environment are entirely off- limits to them. In an emergency they can text me.
c) I do make rules about my work privacy but they still interrupt me from time to time.
6. Do you have access to a printer, scanner and photocopier for your business?
a) Yes, I have everything I need for the smooth running of my business.
b) I still need to buy some equipment for my business.
c) I still haven't bought any office equipment, rely on other family members to print my documents, and take my documents out to be photocopied.
7. Are you forced to work amidst unwanted noise distractions? Have you found ways to filter out unwanted noise to assist your concentration?
a) I put up with a lot of noise from my family and neighbours.
b) I have created a peaceful environment for myself so that I can work free from unwanted and excessive noise.
c) I play my own music to enable me to filter out unwanted noise and do the best I can.
8. Do you regularly examine your home work environment to see what improvements would work for you to help you feel motivated to succeed at your business?
a) Sometimes I think about making changes to my home working environment.
b) I'm always thinking about what I can do to improve my home office and I make changes that I think will help motivate me to work with more efficiency.
c) No, I just keep everything the same and hope for the best.
Points Are Given Like This:
1. a) 3 b) 1 c) 2
2. a) 1 b) 3 c) 2
3. a) 1 b) 2 c) 3
4. a) 3 b) 2 c) 1
5. a) 1 b) 3 c) 2
6. a) 3 b) 2 c) 1
7. a) 1 b) 3 c) 2
8. a) 2 b) 3 c) 1
Add up the scores from your answers
How did you score?
21-24: Congratulations! You have a very professional and efficient home working environment and are all set up ready for success in all you undertake in your business!
16-20: You have some idea about how to organise your home working but need some more help. Make sure you keep your home office separate from family concerns and be organised in running your home business.
15 or less: You need to organise your professional home environment! If you continue to work at this level of chaos you are unlikely to succeed at your business. Start to organise your home office now and create a working environment free from outside distractions.
You might also like...