Home Career: How to Achieve Better Cash Flow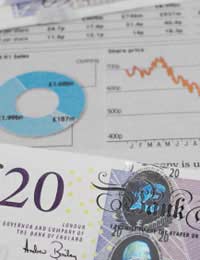 Cash flow is the money that moves in and out of your business in a month. Sensible analysis and management of your cash flow can help ensure you'll be able to withstand the difficult times. You may have a new business that has limited start-up resources, or perhaps your company has been successfully running for quite some time and has simply hit some tight times.
Take steps to improve cash flow
Whatever the case, there are several steps that can be taken to quickly achieve a better cash flow:
Create a forecast planner of what income and outgoing expenses you have over several months in advance. That way you can see better what spare cash you may or may not have available.
Slow down your spending decisions. Don't buy impulsively. Rather, discuss the possibility of the purchase with your business partner or someone who can be objective. Consider whether the purchase is absolutely necessary or if it is a whim. Buy only what you need.
Don't let your customers delay payments. Invoice regularly to avoid late, erratic payments. Set out payment terms to your customers that mean your services are paid for sooner rather than later. Late payments for work that is already completed can result in a negative cash flow, which is not ideal.
Offer your customers an incentive such as a discount for paying early. Customers will be delighted to save money, and you will be protecting your cash flow.
Agree on payment terms. Get your customers to pay for work in progress. Better still, insist on a deposit before the work starts. In asking for a partial payment upfront or during the course of the work, you ensure you have an income before the job has been completed.
Pay your bills when they are due and not before. Hold on to your cash for as long as possible. It doesn't make sense to give your cash away until it is necessary.
Think 'green'. Save and recycle wherever possible. Turn off computers and other equipment, and pull the plugs out. Turn off all unnecessary lights. Use both sides of your paper. These are just some examples of how you can save. Employ sparingly. Too many employees can be a drain on resources.
If necessary, ask for credit. Be honest about your cash flow, and if you are unable to make payments on time, ask for credit terms. It is better to be candid about your cash flow rather than renege on payments.
Improve cash flow for your business to succeed
Payments for rentals, loan repayments, taxes, services such as phone bills, and salaries for employees all constitute cash expenditure. Cash income is from customers or clients who are buying your products or services. Problems arise when expenses outweigh the income. If steps are taken to dramatically improve cash flow, a business has the chance to succeed. The results are a higher net profit, good customer service, and enhanced business opportunities.
When times are tough, especially during a recession, it is difficult to borrow money. Keep your cash flow flowing by implementing these methods. More cash means peace of mind.
You might also like...