Pricing Your Services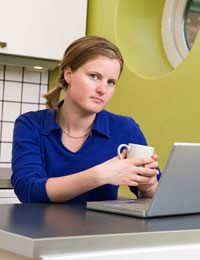 Deciding how much to charge is one of the most delicate questions that faces you as a new business owner. Too much and you put off potential clients; too little, and you can find yourself earning less than in a more conventional and secure job.
You first need to decide what your pricing model is going to be. Are you going to charge by the hour or will you quote a flat fee on a project basis? Estimating the difficulty of the work and how much time it will take you to do it is crucial in either case. When you charge by the hour, your client will want a rough estimate of how long you think it will take you. If your estimates are wildly off, your client isn't going to be happy. On the other hand, if you quote a project-based fee and it takes you much longer than you thought it would, you may have just mugged yourself.
In an ideal situation, you will already have been doing similar work as an employee before you move to self-employment. Your experience will allow you to make accurate appraisals of the difficulty of doing any particular piece of work. And your track record should give you credibility with clients, allowing you to charge significant fees. You will also have your previous salary to act as a benchmark of how much your time is worth. Just take your salary, break it up into earnings per week, calculate how many hours you will work each week and divide. That gives you a basic hourly rate which is equivalent to what you earned before. But you won't be working every single hour. Some of your time is now spent marketing your services. Let's say you spend 80% of your time working and 20% in marketing activities. In this case, you would need to take the basic hourly rate you worked out before, and multiply it by 1.2 just to keep it equivalent to your old job.
You will also need to add something extra to take account of the things that were provided for you in your employment package but won't be any more, things like holidays, pension arrangements and operating expenses. You can estimate for yourself how appreciable you think these are. But don't be tempted to underestimate them. A rough and ready rule many companies employ is that the total cost of employing a person is double what the employee receives as salary. In other words, the overhead costs, taken together, are as significant as the actual remuneration.
But if you're not in this fortunate situation of having experience of doing the same kind of work professionally, what do you do? Well, the obvious thing is to ask your peers. Whatever your specialty is, there will undoubtedly be discussion forums related to in on the internet. These forums are a great way to find out what others like you charge for their services. Ask a question in the forum, explain your situation and, with the answers you get, you'll see the range from high to low and how that varies with location and experience. Alternatives include trade associations, phoning people up and asking them, and consulting websites where rates are sometimes listed explicitly.
Conclusion
Pricing your services correctly is crucial to determining whether your business succeeds or fails. Adjusting them significantly afterwards can be awkward, and disruptive to client relationships, so try to get it right the first time!
You might also like...