Marketing for Next to Nothing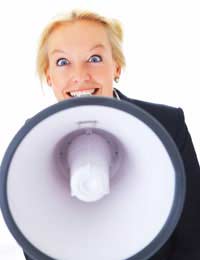 When you work at home, it is easy to become isolated, stuck in your home office all day every day, ploughing on with the work. 'Time is money' after all. However, it would be a mistake to do this all the time.
Firstly, you might lose your sanity, stuck in the same space 24 by 7.
Secondly, eventually you are going to run out of work. Yes, however well you think you're doing; however hard you are working now, you will one day find yourself without work.
You need to get out and tell people about your business and the work you do, because if no one knows about it, no one is going to be buying.
To reach your potential customers and tempt them to buy from you, you need to do some marketing. There are several ways to do marketing, and people running a small business are often put off by high costs. You would probably like to do your marketing on a small budget.
The Marketing Mix
A number of marketing and advertising campaign types spring to mind: TV; radio; cinema; newspapers (national and local); exhibitions; trade shows; telemarketing. Yes, and all those would carry quite a high cost for a small business.
The traditional marketing mix consists of 'The Four Ps': Product, Price, Place, Promotion.
Product is about the design of the product and new product development; it is about the product's reliability, safety, convenience of use, aesthetic qualities, durability and fashion.
Price is about pricing methods (cost-plus pricing, contribution pricing, price discrimination), and pricing strategies (price skimming, penetration pricing, price leader, price taker, predator pricing).
Place is concerned with the customer location, outlet locations, distribution channels, stock levels and sales territories. Examples are whether you sell to retailers or wholesalers.
Promotion is about drawing consumers' attention to a product. One mnemonic used is AIDA – Attention, Interest, Desire, Action. Above-the-line promotion is about advertising through the media (the expensive ones we have mentioned above). Below-the-line promotion is about others such as public relations, merchandising, sponsorship, direct marketing, personal selling, competitions.
Marketing is about combining these four subject areas in such a way that you will reach potential customers and make your product appeal to them.
How Unique is your Business?
Although paying for advertising on TV, the radio and in local newspapers may be too much for someone working at home, you can get some coverage for free! If your business story is unique, then they would be pleased for you to help them fill air time or pages. If you or your product would make interesting news (especially locally) you could get featured or interviewed for free. Try to think and come up with a reason that you, your business or your product is unique. As mentioned above in 'below-the-line promotions' you could send a press release out. However, they do get a lot, so some might be interested; others will not be.
If you are offering a local service you could try leafleting. That means simply delivering leaflets through letter boxes. It might seem a good idea to keep printing and design costs down, but be wary of coming up with a cheap-looking result. Once you've got them, you can keep extra costs down by taking to the streets and delivering them yourself.
Networking
Physical networking in groups such as the Chambers of Commerce, Business link and Business Referral Exchange gets your name and face known around the local business community. There is usually a small cost involved, but members are encouraged to talk about their businesses and products. However, the problem is that all the others are trying to sell themselves as well. Are there any buyers?
Online networking and all the social networking sites are becoming very popular. Sites such as Ecademy and LinkedIn are for businesses, but social networking sites like Facebook, MySpace and even Twitter are believed to be marketing opportunities too. Blogs too, can work in the same way. They are free in terms of money, but may take up a lot of your time.
Website
Every business needs a website these days, even a one-man band. They are fairly cheap to create and could be left once set up. However, to get the best out of a website, it should be used as a marketing tool. Get it known, show its address on every piece of communication (e.g. letters, business cards) that you produce. Swap links with related or other local businesses. Make your website worth returning to, set up a news page, and update it regularly. Write articles for 'e-zine' websites and refer to yours. You have to work to make it work – but it's free!
Marketing need not cost a fortune. There are plenty of ways to market your business without incurring huge costs, but you have to invest your time to make it work.
You might also like...