Finding Freelance Work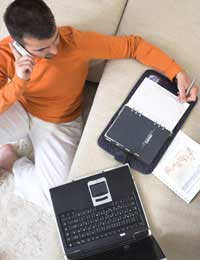 Marketing is what you do when you want your customers to find you. But what about the times when things are quiet when work is only trickling in, and you find yourself not fully occupied? Perhaps you're just starting out and don't yet have the kind of track record that attracts new clients. Then you need to go actively looking for work yourself. So where should you do it? Naturally, the answer depends a great deal on the nature of the work you do. But many of the people running businesses from the own home are self-employed professionals working, for the most part, in creative industries, whose income is made up from a variety of freelance work. The internet has been a great boon to these people, putting them in contact with clients across vast geographic distances and allowing the work itself to be executed remotely.
There are now many sites on the web where freelancers and their clients can hook up. When you first start out on the freelance path, you should invest time and effort in actively investigating these. Find out the ones that are best for you, bookmark them, and visit them regularly.
So what kinds of website should you be looking for? Your first stop should probably be forums. For the inititated, forums are discussion-based sites where users congregate and make posts on topics that interest them. Others respond to those posts and those arriving later can follow the chain of initial post and follow-ups. In a sense, it's an ongoing internet conversation in written form. Whatever variety of freelance work you do, there is sure to be a forum somewhere devoted to it. You can pick up a lot of practical tips about practicing your trade professionally from others who do the same. Most creative forums also have a work-related section where customers with work to offer invite freelancers to apply for it.
Most forums require users to register. You can usually see some basic information about members of the forum such as the number of posts each has made. There will also often be a link to their website and, of course, the reaction of other members of the community to any particular poster can tell you a great deal. A good forum is a real community and the sense of the community can be helpful when you're evaluating offers of work. But many people with work to offer prize anonymity for some reason. The reaction of some forum posters to job offers with what they consider inquitable rates of pay perhaps explains some of this! Some websites that have emerged as important venues for freelancers to find work offer complete anonymity to those offering it. The best known of these is Craigslist. Some adverts on Craigslist offer a bare minimum of information. In the extreme case, you won't even know the name of the person or the company posting the advert. You will reply to a specially-generated numerical Craiglist email address and, if the mystery client doesn't like the look of your application, you'll almost certainly never hear back from them. Should you just snub such insulting-framed work offers? Some do; others can't afford to.
A variety of websites based on the concept of bidding have also emerged as important hubs for freelance work. On these sites, employers present packages of work, together with extensive descriptions of what would be involved, sometimes responding to questions from freelancers or issuing clarifications of the initial spec. Freelancers can then bid on the work, offering to do it for a certain price. In the end, the customer will decide which freelancer should get the work and it's not always the lowest bidder. The remuneration arrangements vary significantly from one site to another and it's worth familiarising yourself with these, reading all of the fine print, to find one that you feel comfortable with before you take the time to make a bid. Some require you to register as a service provider and pay a subscription fee before you can bid on work; others expect to take a percentage of whatever you make from a deal, or even of what you bid for a piece of work.
Conclusion
When you set out on your own as a freelance worker, foraging for work on the internet is one of the skills you must learn to develop. So don't despair if things are quiet. Just get surfing instead.
You might also like...