Making a Website for Your Business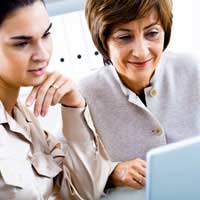 It's important for any business to have a website these days. It's particularly important if you're running a business from home and don't have all the usual accoutrements such as offices and receptionists which combine to give an air of professionalism to potential clients.
If you're worried about the technical aspects of setting up a website don't be. It's very easy to set up a simple website these days. Many companies which host web pages will offer basic design templates to you at no extra cost. These allow you to set up a simple website with just a few clicks to pick the design elements you like.
If you prefer to create your own website, basic HTML (Hypertext Markup Language, the language in which web pages are written) isn't hard to learn, and there are low-cost but powerful graphics packages, such as Paintshop Pro, which allow you to easily knock up a logo or small graphic for your website. If this is too much for you, and you can't afford to pay someone to design the website for you, you can just do a simple page in Microsoft Word and save it as HTML. At a minimum, your web page just has to say who you are, what you do and how you can be contacted.
It's worth investing some time, effort and money in going beyond a bare bones web page, though. Your web page will be the first impression you make on a potential client and could become the main driver of new business to your company. If you do decide to go the extra mile, you need to think about whether you have the skills to make a website look good. This takes a little more than just basic HTML or graphics software. If you do, great – go for it. If not, you have two options. You can either hire a pro, or use templates. Since you're a freelancer yourself, it should be quite easy to find a freelance web designer who will put together a good-looking site for you. Just advertise in the places you usually look for work yourself! In any case, don't pay more than a few hundred pounds.
The other option is templates. Templates are essentially pre-packaged websites which can be bought quite cheaply, sometimes for just a few pounds. They usually look great because they have been put together by pros. Obviously, they won't be entirely appropriate for your business at first. That means you need to customise them. Usually, some bogus filler text will have been placed in the HTML templates you get when you buy them. You just open the files up in an HTML editor (even a basic text editor like Notepad, the one that comes with Windows, will do) and make changes. Put in the name and address of your company instead of the original fictitious company. Using templates does require a basic knowledge of HTML but no more than that. If you really have no knowledge of HTML at all, though, this option won't work for you.
Choosing a Domain Name
If you're going to have a website, you'll need a domain name. This is the address that users will type into their web browsers to access your page. Choosing a good domain name is important. If your website becomes a key part of your business, you may even want to have several. You want something which will be intuitive, easy to type and easy to remember. In many cases, your domain name will flow naturally from whatever your company name is. Something to bear in mind is that choosing a name related to the kind of words someone would type in to a search engine if they were looking for your kind of business services may help drive traffic to your site. So, for example, if you were in the graphic design business, something like www.greatgraphics.co.uk would be more helpful than something obscure like www.susansmith.co.uk.
You will also need to decide on a suffix for your domain name. This is the part at the end. In the examples above, it is ".co.uk" and this is the convention for UK-based businesses. You might also want to take the ".com" address too as many browsers auto-resolve an incomplete web address into the a ".com" one. For example, if someone just types "greatgraphics" into the their browser address bar, the browser will recognise that this is an incomplete address and begin looking for a "greatgraphics.com" website instead, rather than a "greatgraphics.co.uk". Another possibility is ".biz". After you've come up with your ideal domain name, you'll need to check to see if someone already has it. If so, just keep coming up with alternatives until you find one that is unique. Domain names can be reserved quite cheaply for one year. Expect to pay around £5-10 for this, although many website hosting services will include domain registration as part of the package of services they offer.
If you don't want to pay for a full domain name, it's not difficult to find companies which will host your website for free with only a sub-domain name. Blogger is one popular example, designed for blog websites. So, for example, if your website was on Blogger, rather than the domain name being www.greatfreelancer.co.uk, it would be something like www.blogspot.greatfreelancer.com.
Conclusion
Setting up a website is among the most important things you can do if you're starting a new business up from home. If you're put off by your lack of knowledge, either take the time to acquire it, or hire someone who already has it. Neglecting a website altogether really shouldn't be an option.
You might also like...